Check Engine Light in Johnson City, TN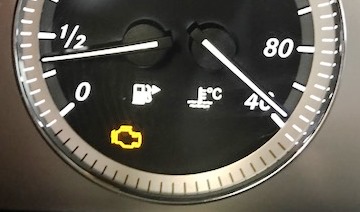 If you see your service engine soon or check engine light come on, it is designed to alert you of potential issues that require attention. It's an early warning for an issue that may be developing inside your vehicle, that if left unattended, may cause more serious problems.. The light itself is activated when one or more of the many sensors inside the vehicle are alerted to something that falls outside the normal operation of your car or truck. It may be something minor or more serious, but whatever the case, you can
find out what is the cause by using our free check engine light diagnostics, so come on by & visit American & Import Auto Repair!
We invite you to stop by our repair shop Monday – Friday, 8 am to 5 pm or Saturdays from 8 am to Noon, and have a check engine light code scan performed for FREE! If your vehicle was made in 1996 or later, our free check engine light scan will alert you to the nature of the problem which can be corrected by one of our trained ASE certified master mechanics.
How Your Check Engine Light Works
If you see your check engine light illuminate but it reappears when you shut off & then restart your engine, you should schedule an appointment or simply drop by our shop at American & Import Auto Repair. However, if the check engine light is flashing, you should pull over immediately and have the vehicle towed to our shop, because it means something is seriously wrong and you can cause severe damage to your engine.
C'mon in…
Stop in and we'll bring out the check engine light scanner and check your vehicle's computer to see exactly what's causing the light to come on. We'll pull your codes for free and explain if it is a serious problem and whether it is safe to drive or if the issue might be covered by your vehicle's warranty. We can set an appointment to further diagnose the underlying issue if needed.
Whether the problem is a loose gas cap that can be quickly tightened, or an engine misfire that might indicate something is seriously wrong, you will have the peace of mind knowing whether it's safe to drive and what steps need to be taken to correct the issue. That's why we offer our FREE check light reader service so that you know what is happening to your vehicle.
The check engine light is activated by a code that is sent from one or more of the many sensors located in the engine (there are thousands of codes). The code does not indicate the exact nature of the failure, but instead recognizes that something is wrong in a specific area of the engine that a sensor has detected. For example, if you were to run a temperature, the cause could be a virus, infection, or some other cause that requires your physician to diagnose. The same principle is used for the check engine light as it highlights a symptom that the mechanic will then diagnose.
The engine codes that activate the check engine light include, but are not limited to, the following examples which are the most common on cars and trucks.
Emissions
Air Fuel
Ignition
Fuel Injector
Computer Output
Transmission
Speed & Idle
In fact, there are thousands of possibilities that could trigger the check engine light to come on, so mechanics will always start with the code itself to narrow down the location of the sensor which sent the code and the system which it covers. Once that occurs, our ASE certified master mechanics can trace the problem and inform you about its nature.
The codes themselves save time and expense in trying to diagnose specific issues with the engine that otherwise have no symptoms. Plus, they can often spot small issues in their early stages which means that they can get the attention they deserve before they become big problems. Taking your car or truck into American & Import Auto Repair for our free check engine light service may mean saving you hundreds, if not thousands of dollars by having it fixed now before it gets worse and affect other parts of your vehicle.
We have the correct equipment for each make & model!
Different manufacturers may require specific computers for check engine light diagnosis – and we have them, right here in our garage in Johnson City, TN! Also, some makes and models of vehicles may require having it test driven with our computer scanner plugged in to your vehicle's computer system, to correctly identify the root of the problem, especially if the problem is intermittent in nature. Our ASE certified master mechanics at American & Import Auto Repair are trained and experienced when it comes to diagnosing the issues involved with a check engine light. If the check engine light pops on in your vehicle, bring it to our shop and we'll find the cause!

Family owned and operated for nearly 20 years. Our experts have the knowledge and experience to keep your car safe and on the road. Call us with any questions at 423-220-4221 you can text 423-390-8549 or come by at 3832 West Market Street Johnson City, TN 37604
Service area: Johnson City | Jonesborough | Gray | Telford | Chuckey | Elizabethton | Erwin | Fall Branch | Greenville | Kingsport | Limestone | Mosheim | Mountain Home | Piney Flats
Zip codes 24210, 37618, 37620, 37641, 37643, 37644, 37650, 37656, 37657, 37615, 37743, 37658, 37660, 37681, 37818, 37684, 37686, 37687, 37690, 37692 37601, 37604, 37659
Check out Wiki Check Engine Light for more information.