Automotive Hybrid Maintenance And Repair in Johnson City
If you drive a Toyota Prius or Honda Insight or one of the other hybrid vehicles, its care and maintenance will be different than cars or trucks with gas engines only. A hybrid carries a large battery or series of batteries that power the vehicle for low speed driving and a standard gas engine to be used for higher speeds. The first Toyota Prius Hybrid came out in 1997 and have proven to be popular vehicles for those who are looking to save money on gas expenses by the improved miles-per-gallon that they offer. And, to contribute to a healthier environment for everyone.
Of course, hybrid vehicles certain maintenance needs just like standard gas-powered cars and trucks. While offering a larger battery to power the vehicle for low-speed driving, they have a gasoline engine in it to partner with the hybrid battery to work together and maintain smooth operation.
When you need hybrid repairs in the Johnson City Jonesborough area bring it to us for hybrid diagnosis and repairs. We have ASE master mechanics with years of experience with hybrids, which includes replacing the battery, repairing the cooling system, and addressing the needs of the regenerative braking systems which are all part of hybrid models.
The United States is second in the world in hybrid vehicle use after Japan.
The Prius is the top seller followed by the Camry Hybrid, Honda Civic Hybrid, Ford Fusion Hybrid, Ford Escape, Ford C Max Hybrid, and the Chevrolet Malibu Hybrid.
Hybrid-Electrical Vehicles use both electrical and gas motors. The efficiency gains are in these three areas.
Start/Shutoff Automatically
A lot of gas is used when the vehicle is idling and Hybrid vehicles shut off when the vehicle comes to a stop thus saving gas.
The power that used to slow down the vehicle is put back into the charging system to be stored and reused. This braking practice can help your braking system to last 2 to 3 time longer than conventional brakes.
Hybrid Electrical Vehicles (HEVs) can have a duel source for power either an electric or gas motor. The electric motor is primarily used and the gas motor supplements extra power and is used for higher speeds.
PHEV is a plug in Hybrid Electrical Vehicle
This type of Hybrid doesn't have the dual motors like some of the other Hybrids do. The PHEV uses an electric storage (a Lithium-Ion Battery) for all of its power and needs to be plugged to be recharged. The pure battery life isn't as long as the gas or dual motor alternative and is typically used for commutes and city driving. As long as electric power is cheaper than gas this is a money saving and environmentally friendly alternative to the conventional vehicle.
Does my Hybrid have two batteries?
Yes dual motor hybrids do have two batteries, one for the "regular" gas engine and one for the electric motor. The gas engine (small battery) to start the car is about the same price as a non- hybrid car battery. The other battery pack is really big and relatively expensive. It can run from about $1500 to over $4000 dollars. The batteries come with a good warranty from the factory about 8 to 10 years and 100,000 to 150,000 miles for the Prius (depending on which state you live in). The Honda hybrids had some issues in the past and have upped their warranty. Check the VIN number to see, most have went to 10 years and 150,000 mile warranty. The warranty can be dependent on what state you live in. If you are having an issue the battery the IMA light usually comes on.
Proper Hybrid Maintenance
Because the Toyota Prius, Honda Insight, and other hybrid vehicles carry a gas engine as well, they require the same basic maintenance as gasoline-only vehicles. This means regular oil changes, air filter checks, coolant flushes, and inspection of the moving parts so that small issues are caught before they become big repair problems.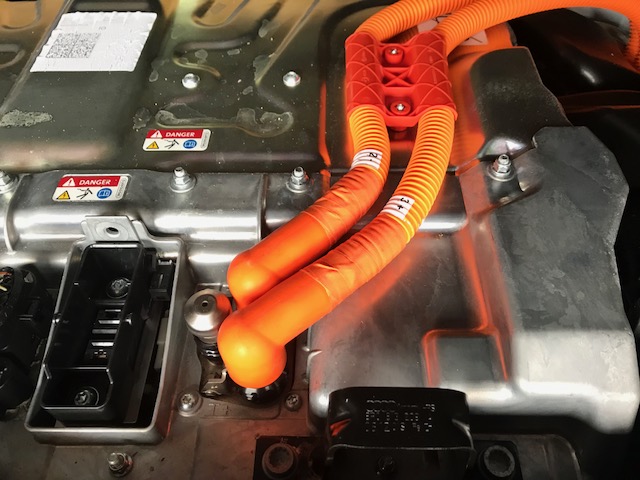 Oil Change & Air Filter Check
It is recommended that you bring your hybrid vehicle into the shop for routine oil changes and this will prevent sludge from building up inside the engine.
The same is true for the air filter which must be cleaned or replaced every so often so that the air intake remains strong. A dirty air filter affects the performance of the gas engine which means less efficiency and greater chances of problems occurring.
If there are issues found with your gas engine or your vehicle breaks down because of a failure in the gasoline engine, we have the ASE master mechanics to repair your vehicle and replace the parts necessary so that you can get back out on the road. While most hybrid gas engines are smaller than engines found in standard gasoline vehicles, they operate on the same principles and we have the right mechanics with the right parts needed to get the engine operating again.
Hybrid Battery Maintenance & Repair
The battery or battery pack that powers the hybrid is checked by the cars computer to make sure the battery is storing energy properly. Even the large battery of the hybrid is subject to wear and tear which means that over time it will start to lose the capacity to store electricity at its full amount. This means that at some point the battery or battery pack will need to be replaced. Most dual motor system like the Prius have two batteries, one for the regular car engine and the other is a lot bigger one for the electric storage. We can diagnose and replace either battery if either is bad. And we can test your hybrid drive motor for repair and replacement

The electrical system is connected to the battery which run the lights, A/C, heater, and so forth, will also be checked to ensure their proper operation. The recharging and coolant system will also be checked so that any small issues are detected early on.
If there is an issue with the battery, recharging system, or coolant system of your hybrid, we can provide effective repair and replacement services. Our trained, certified mechanics who have years of experience working on hybrids will identify the issue, repairs or replace the parts necessary to get your hybrid running again.
Hybrids like the Toyota Prius and Honda Insight have proven themselves over the years to be safe, reliable vehicles when they have the proper maintenance performed. You can keep driving your hybrid year after year if you schedule routine maintenance and bring it in at the first sign of trouble.
At American & Import Auto Repair in Johnson City, TN, we have years of experience in maintaining and repairing hybrids. We offer ASE master mechanics that have the knowledge and experience in hybrid battery replacement, cooling systems, and the regenerative charging systems so that your vehicle can get back on the road. You can set an appointment or come by our shop to take advantage of our maintenance and repair services for your hybrid.
Click on this government website for comparing hybrid gas mileage side by side, It a good resource.
Toyota Prius, Honda Civic Hybrid, Honda Insight, Toyota Camry Hybrid, Chevy Silverado Hybrid, Honda CRZ, Ford Edge, Tesla, Ford Fusion Hybrid, Hyundai Sonata Eco, Infiniti Q50 Hybrid, GMC Yukon Hybrid, Hyundai Sonata Hybrid, Nissan Leaf, Ford Escape Hybrid, Chevrolet Bolt EV, Volkswagen Touareg Hybrid, Chevrolet Volt, Honda Insight, Volkswagen Jetta Hybrid, Ford Fusion Hybrid
Service area: Johnson City | Jonesborough | Gray | Telford | Chuckey | Elizabethton | Erwin | Fall Branch | Greenville | Kingsport | Limestone | Mosheim | Mountain Home | Piney Flats
Zip codes 24210, 37618, 37620, 37641, 37643, 37644, 37650, 37656, 37657, 37615, 37743, 37658, 37660, 37681, 37818, 37684, 37686, 37687, 37690, 37692 37601, 37604, 37659