Wheel Alignment In Johnson City, TN
If you need a two wheel alignment or a four wheel alignment, bring your vehicle to American & Import Auto Repair! We offer laser wheel alignment services that will reduce tire wear, tire pull, and tire vibration which means your vehicle will drive more efficiently on the road. Call to set up an appointment so we can evaluate your car, truck or SUV. We'll also check the suspension and steering and make sure it is safe and ready for your wheel alignment. Click on the Wheel Alignment Coupon to save money.
How do I know if my vehicle is out of alignment?
In many cases of improper alignment, you may not notice anything at all. However, some of the symptoms of improper wheel alignment include the following;
Vehicle pulls to one side
Uneven wear on tires
Vibration or shaking of the steering wheel
Crooked steering wheel after hitting a curb or pothole
These minor issues need to be checked on your next stop to the auto repair shop so that your wheels can be checked and properly aligned. Plus, proper wheel alignment is more than checking the tires, it's the steering system of the vehicle itself.
"Camber, Caster and Toe" all need to be checked and set for a proper wheel alignment
Camber: Where your tires are leaning either outward or inward which can greatly affect the wear. The tires will be set to specific factory camber setting for your vehicle.
Caster: This has to do with the angle created by the pivot points between the top and bottom of the tire. Positive caster makes the car more stable at higher speeds. It also helps with tire lean in cornering. So much like a shopping cart has casters on the front wheels that allow you to turn, so too does your vehicle which must be adjusted for maximum control.
Toe: Much like how your toes point out from your feet, so too do the wheels need to point forward down the road. When not adjusted correctly, you'll notice a drift or pull to one side or uneven wear on your tires. We adjust the toe to the factory settings for the best performance and minimum tire wear.
Some front end alignment shops will set the toe and not adjust the caster and camber. This is not a complete wheel alignment. At American & Import Auto repair, we give you before and after color diagrams so you can see the alignment on paper. Sometimes the adjustment to factory setting can't be done within the limited movement. Kits might be needed to get the caster, camber and toe back to where it needs to be. This might be necessary to get the longest life from your tires.
What's included in a Wheel Alignment?
A proper wheel alignment inspection starts with a tire inspection to check their condition and wear, but also includes other parts of the steering system such as the following;
Ball Joints
Tie Rod Ends
Idler and Pitman Arm
Stabilizer Bars, Bushings, and Struts
All these aspects of your steering system need to be in good shape as well. So, bring your vehicle to American & Import Auto Repair and let our ASE certified master mechanics ensure that your wheel alignment is properly performed. If steering or suspension work needs to be done we can perform the work and get your car, truck or SUV back to driving like it is meant to!
How American & Import Auto Repair Works for You
Whether you notice the symptoms of improperly aligned wheels or not, our ASE certified master mechanics will check your wheel alignment when requested or as part of our maintenance services. Our mechanics have the knowledge, experience, and training to conduct a proper inspection and diagnose the issue affecting your wheel alignment.
2 Wheel Alignment
4 Wheel Alignment
Camber, Caster and Toe
We check for tire wear, tire pull, and tire vibration if test driving your vehicle is needed to correctly identify the issue. Sometime it might appear to be an alignment issue but can turn out to be a wheel balancing problem. Thanks to the use of digital wheel alignment equipment, we can properly align the tires and check the entire steering system so that you can get back on the road with confidence.
At American & Import Auto Repair, we offer the best in maintenance and repair services for your vehicle. Everything starts with our certified service advisors who will listen to your vehicle concerns, have the vehicle inspected to identify and make you aware of any issues and help you plan the most effective repairs & maintenance to keep you safe. As part of our general maintenance program, proper wheel alignment means that your car or truck runs at peak efficiency down the road.
We also replace worn parts and conduct repairs on the steering and suspension system when needed so that your vehicle does not suffer from the effects of improper alignment. While in most cases wheel alignment may not create a big, noticeable difference when you drive, it can correct issues that under certain circumstances may lead to accidents. At the very least, you will help maximize the life of your tires with proper alignment and balancing services.
While you're here, let us check to see if you need an oil change, tire rotation and balance, fluid top offs and any other regular maintenance your vehicle needs. While we're on the subject, we have a GREAT maintenance program, our $uper$aver! It is the best of maintenance & repairs. Save over $500 ( which includes a FREE wheel alignment deal!) four oil changes & much more. Ask us about it when you call or come by. The best part is you can use it the same day you purchase it, and start saving $$$ right away!
If you are looking for a wheel alignment near me on your car, truck or SUV and want the steering and suspension inspected, please bring your vehicle to American & Import Auto Repair. Call for an appointment at 423-220-4221 text 423-390-8549 or visit us today!
American & Import Auto Repair
3832 W. Market Street
Johnson City, TN 37604
If you would like to know more about caster angle, camber angle, wheel toe and wheel alignment
Just over the hill from the new Lowe's in Jonesborough,TN
Service area: Johnson City | Jonesborough | Gray | Telford | Chuckey | Elizabethton | Erwin | Fall Branch | Greenville | Kingsport | Limestone | Mosheim | Mountain Home | Piney Flats
Zip codes 24210, 37618, 37620, 37641, 37643, 37644, 37650, 37656, 37657, 37615, 37743, 37658, 37660, 37681, 37818, 37684, 37686, 37687, 37690, 37692 37601, 37604, 37659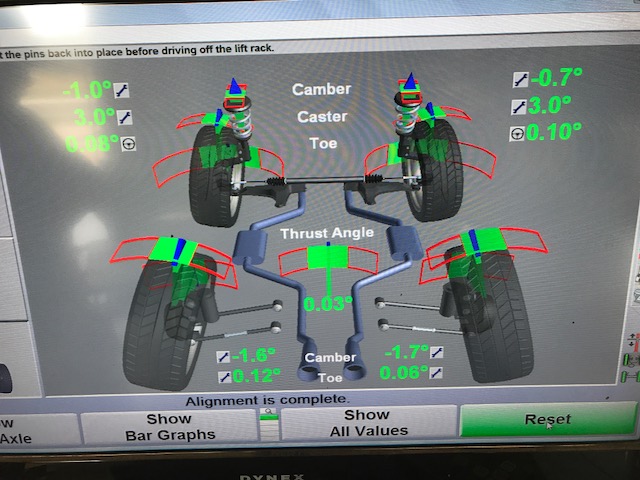 Wheel Alignment at American & Import Auto Repair in Johnson City, TN