Engine Repair and Replacement
It takes a lot more than just changing your oil and swapping out the air filter to keep the engine of your vehicle running smoothly. At American & Import Auto Repair in Johnson City, TN, we have the right mechanics to perform all types of maintenance and repair for your car or truck. Our ASE master mechanics can change the oil, replace a part, or do a full engine repair or replacement procedure if necessary to get your vehicle back on the road as quickly as possible all for an affordable price.
Engine Maintenance & Repair
At American & Import Auto Repair, we can repair the engine of your vehicle or replace it if needed so that you can get back to your daily routine. We have the expertise to keep your engine running well through our maintenance program which helps avoid some repair issues and extends the life of your vehicle. We believe in the care and maintenance of all vehicles and many of our customers have managed to drive 150,000, 200,000 and 250,000 miles or more on their car or truck thanks to proper maintenance.

Here are just some of the many services we provide to keep your engine running smooth and repair what is needed so you can get the most out of your investment. Keep in mind that if you should notice any changes or issues with your vehicle that you should schedule an appointment. We can inspect the problem and tell you what is needed to ensure that your car or truck keeps running smoothly.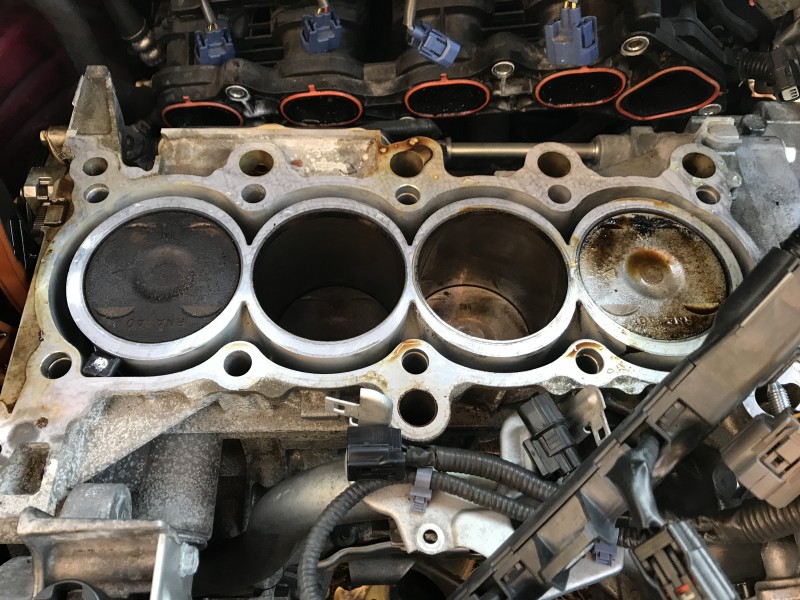 Engine Block where Head Gasket and Head is installed, you are looking at the pistons, four on a 4 cylinder engine.
It is recommended that you have your oil changed every 3,000 miles. While your oil change reminder light may not activate until it reaches 7,000 or even 10,000 miles, the excessive amount of sludge buildup may cause some issues with the engine later down the road. Instead, having it changed every 3,000 miles means keeping your engine running smooth and limiting potential repair issues to the valves, push rods, rocker arms, crankshafts, and more. It is a small price to pay to keep from big expenses later.

In the Johnson City, TN area, the dust and dirt from driving on both city and dirt roads can build up in your air filter over time. This means that during regular inspections we can replace your air filter and cabin air filter so that you and your engine can take in the air that it needs.
Changing out the spark plugs every 60,000 to 100,000 miles can keep your engine firing properly which means that it reduces wear and tear. While some studies suggest that 100,000 miles is recommended for the iridium-tipped plugs, practical experience has demonstrated that the buildup in engines can begin to affect their performance much earlier.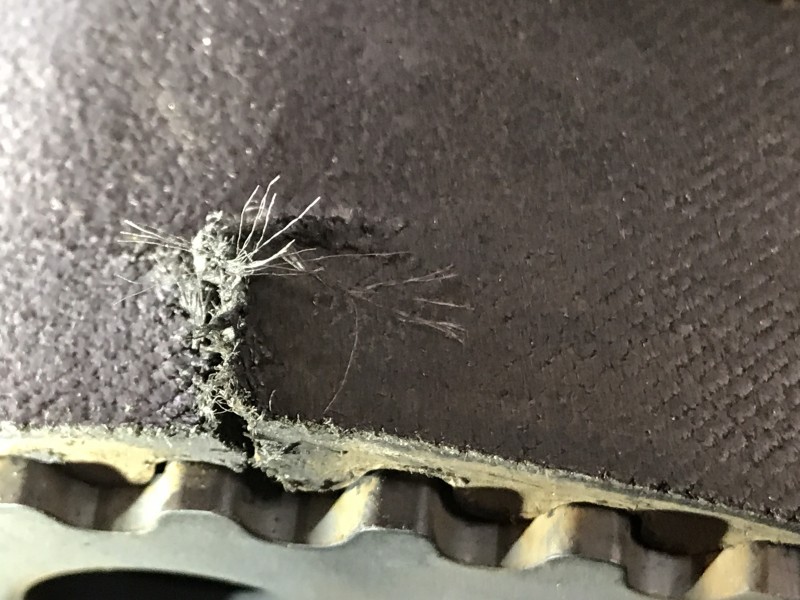 Timing belt needs replaced
The timing belt undergoes a considerable amount of wear in your vehicle as it is being turned by the engine when in operation, undergoes the heat that is inside the engine compartment, and subject to the temperature extremes of summer and winter. A timing belt that breaks may cause considerable damage to your engine because the pistons may collide with the valves and put the critical components of your engine at risk. By replacing your timing belt before it begins to wear down, you may avoid an expensive repair. Most timing belts last from 60,000 to 90,000 miles, so be sure it is replaced before the worst can happen.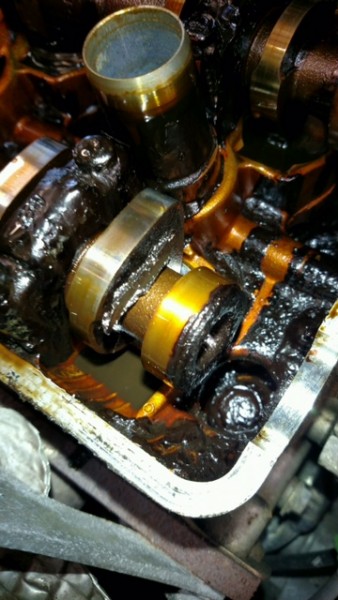 Sludge build up can result from dirty oil and oil change procrastination or extended time between oil changes.
If your vehicle has a timing chain, then it is not subject to the same stresses as a timing belt which is made from rubber. However, timing chains can slip or jump a chain link, we are seeing more tensioner and guide issue causing damage to the engine.
The water pump is subject to many different stresses and often will need replacement at some point in the life of the vehicle. The changing temperature that the anti-freeze undergoes in the summer and winter along with the stress of operating in a hot engine environment. Some water pumps with a plastic impeller become damaged or break loose from the shaft, will not circulate coolant any more, causing the vehicle to overheat.
For timing belt engines it is recommended that the water pump be replaced along with the belt so that it prevents slippage from occurring. For timing chains, the water pump should be replaced when there is coolant leakage visible or timing components are being replaced.
Head Gasket damage is usually from engine overheating which results in the head gasket leaking and the cylinder heat possibly warping. The head gasket keeps the engine coolant, oil and combustion gasses in the cylinder head from making contact and mixing, causing a mess. This a commonly referred to as a blown head gasket. This is a fairly in depth repair and needs a mechanic shop that is familiar with the procedures and comes with a great warranty. Subaru head gasket replacements are fairly common and just one of the many car, truck and SUV's we can repair.
Since overheating is a major cause of blown head gaskets your coolant system needs to be checked over for weak hoses, gasket or other coolant system leaks. This along with coolant flushes will help prevent this type of damage. All head gasket repairs come with a 24 month 24,000 mile Nationwide Warranty!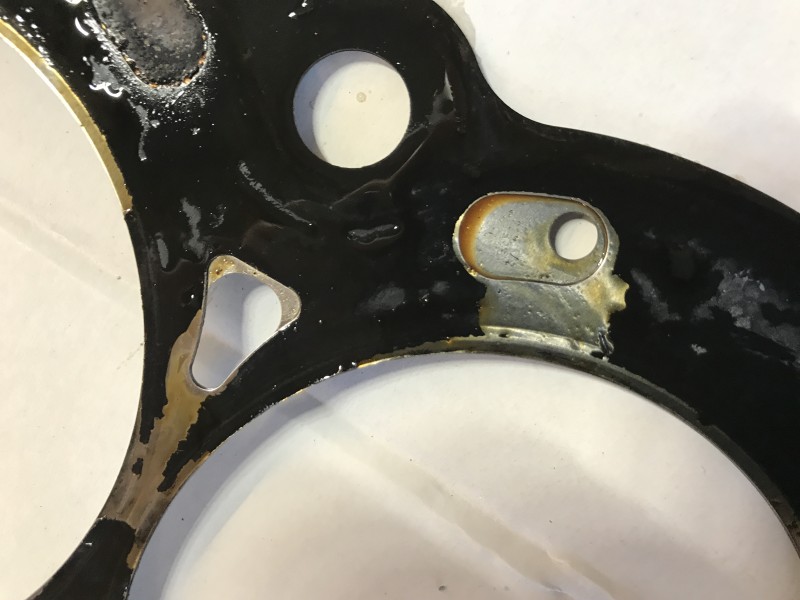 This head gasket is blown in two places. The head is machined flat and gaskets are replaced and torqued to specifications.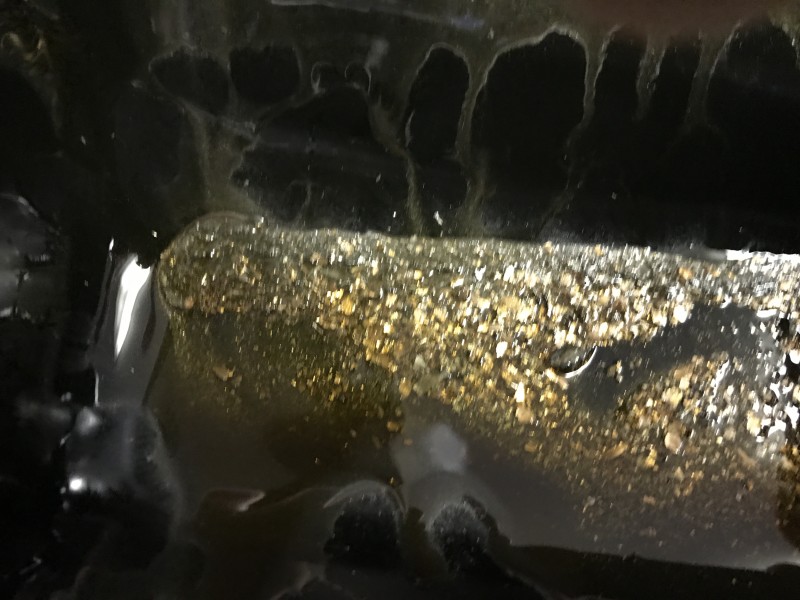 This is an oil pan and all of this shiny bearing material should be around the engine parts. This engine was knocking and now needs an engine replacement.
If your engine suffers major damage, such as a blown head gasket, American & Import Auto Repair can either repair or replace the engine. The main enemy of engines is excessive heat which can damage all the parts and even the core of your engine. The head gasket is designed to keep the separate cooling elements which include the anti-freeze and engine oil from mixing in the cylinder combustion. If they should mix, it spells disaster for your engine and replacement may be recommended.

If your vehicle starts to overheat, pull over and shut off the engine as soon as possible. Call a tow truck and have your car, truck or SUV taken to our shop. The expense of the tow is quite small compared to the potential cost of having major repairs or replacement of your engine. This also means that your engine should be checked for any coolant leak during regular maintenance and you should have regular coolant flushes to avoid problems. Going over the radiator and radiator hose is also recommended so that any early issues can be detected and repaired before they become major problems.
At American & Import Auto Repair in Johnson City, TN, we offer complete engine repair replacement services that you can trust. Our mechanics are trained, certified, and capable of handling all maintenance and repairs to your engine so you get back out on the road. Let our ASE master mechanic inspect your engine for possible signs of wear and replace any parts before the break. Regular maintenance on your vehicle may save you thousands of dollars compared to the major repairs or engine replacement that might otherwise occur.

Our expert mechanics have the knowledge to service and repair even the most challenging auto problems on all makes and models of domestic and import vehicles. We use the latest technology to assess the situation and offer you alternatives. We guarantee all of our work and know you'll be happy with the outcome. Stop in at 3832 West Market Street Johnson City, TN 37604 give us a call at 423-913-3111 or text 423-390-8549 to let us know how we can help you!
Johnson City | Jonesborough | Gray | Telford | Chuckey | Elizabethton | Erwin | Fall Branch | Greenville | Kingsport | Limestone | Mosheim | Mountain Home | Piney Flats
24210, 37618, 37620, 37641, 37643, 37644, 37650, 37656, 37657, 37615, 37743, 37658, 37660, 37681, 37818, 37684, 37686, 37687, 37690, 37692 37601, 37604, 37659