Here are 10 things you need to know about your minivan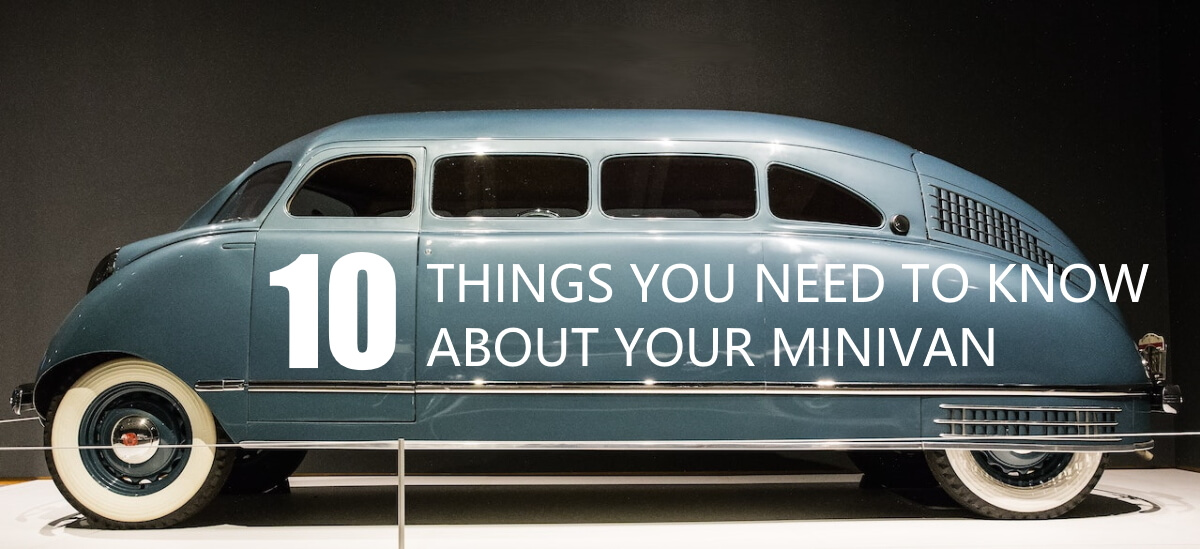 Searching for a minivan? Get the scoop on what you need to know! This article will provide 10 top tips to consider when you shop. Get details on warranties, safety ratings, and more. So you'll find the perfect vehicle for your family!
Consider warranties.
Check safety ratings.
Evaluate the interior.
Research the engine.
Look at fuel economy.
Compare features.
Test drive the vehicle.
Check the exterior.
Inspect the tires.
Read reviews.
Introduction
Shopping for a minivan? We can help! Here are 10 facts to know before buying. Minivans are great for families. They offer a comfy ride and plenty of storage space. So, it's worth learning more about them. Read on to get all the info you need to make a smart purchase.
Minivans are great for families.
They offer a comfy ride.
They provide plenty of storage space.
It's worth learning more about them.
Read on to get all the info you need to make a smart purchase.
Minivan Safety Features
Minivans are designed to protect drivers and passengers. Here are 10 things you should know about how your minivan protects you and your family:
Seatbelts for all rows of seating come with modern minivans. Make sure the seatbelt is properly installed, adjusted and locked before each trip.
Driver and passenger airbags are standard in most minivans. Also, side-curtain airbags are included in case of a rollover or side impact collision.
Blind Spot Monitoring systems use sensors to detect any object in your vehicle's blind spot during lane changes or merges.
A rearview camera helps the driver see when reversing, preventing collisions from backing into unseen objects.
Advanced Parking Assist Systems (APAS) use sensors around the exterior of the minivan and automatically brake if an obstacle is detected.
Adaptive Cruising Control (ACC) keeps a safe distance between vehicles on highways by automatically slowing down based on traffic.
Lane Departure Warning Systems detect if your vehicle unintentionally drifts over lane lines. It will trigger an alarm to steer you back in line.
Electric Stability Systems allow better handling on slippery roads. Brakes also get improved performance with anti-skid technology.
Minivans include security features to prevent trailer thefts. GPS tracking devices monitor trailers through mobile apps.
Emergency brake assist systems have sensors for efficient stopping. This works even if the driver is alone inside the cabin.
Fuel Efficiency
Fuel efficiency is crucial if you own a minivan. Models and years differ so research is key. MPG is the measure of fuel efficiency, and the EPA website can provide this info. Air-con, acceleration and speed all reduce fuel economy. Extra features like cruise control or Eco mode can help reduce these factors. Knowing what fuel your minivan needs will help you be prepared.
Comfort and Convenience of Minivans
Minivan owners adore their vehicles for their roomy and comfortable seating, easy access, and great storage. Here are 10 things to consider for comfort and convenience when getting a minivan:
Seating capacity: Most minivans come with captain's chairs or benches. Decide how many seats your family needs before buying.
Adjustability: Many minivans have adjustable headrests, lumbar support, armrests, steering wheel controls, and power-adjustable pedals.
Second row access: Options include walk-in access, side doors that swing open, built-in stairs, or fold-down seating.
Occupant detection system: Many new minivans have an overhead camera to detect if a child is buckled up in the outermost seat.
Rear entertainment: High trim levels come with two DVD players and two wireless headphones.
Climate control: Independent settings for each person can be tailored to their needs.
Storage capabilities: Consider hidden cubbies, center consoles, or rear compartments.
Interior lighting: For safety, interior illumination is essential for nighttime.
Bluetooth compatibility: Connect up smart phones in car power outlets.
App based navigation: Preprogrammed systems for remote destinations.
Maintenance and Repairs
No vehicle lasts forever. It's key to keep your minivan running well with regular maintenance and repairs. Know the maintenance schedule for your make and model. Also, know what services you should get every 100,000 miles (or so). Here are 10 things to keep in mind when taking care of your minivan:
Consult with a mechanic or automotive service specialist at least yearly.
Check oil levels frequently – at least monthly with conventional oil.
Have brake pads inspected and replaced if needed.
Inspect belts and hoses regularly. Replace if needed.
Change spark plugs per manufacturer's recommendation. Usually every 12-20k miles.
Perform engine tune ups per manufacturer's recommendations. Include checking air filter, fluid levels and spark plug gap.
Rotate tires regularly. Every 6-10k miles.
Inspect exhaust system components. Especially mufflers and tail pipes. Replace if rusting or damaged.
Check cooling system components. Ensure environmental protection from heat build up. Flush system coolant annually if recommended.
Repair any broken parts or accessories in a timely manner.
Storage Capacity
When you're thinking of a minivan's storage, note how much cargo volume you'll need. Modern minivans have many seats, but make sure you have enough room for luggage and gear. This can influence which type of minivan is right for you.
The larger vans, like the Chrysler Town & Country and Honda Odyssey, hold up to 163 cu ft (4,603 L) of cargo with the seats down. Smaller vans, such as the Kia Sedona and Mazda5, can hold 135 cu ft (3,845 L). Ford Grand C-Max comes with sliding doors, allowing more seating options.
Inquire about cup holders, cubbies, hampers and console organizers to make the most of your van's space. Knowing your minivan's storage capacity helps you pick the best one for your needs.
Towing Capacity
When it comes to minivans, many don't think of towing. But certain makes and models have great towing capacities. It's vital to check your minivan's towing capacity before attempting any hauling.
Things to consider include tongue weight rating, Gross Vehicle Weight Rating and Total Gross Combined Weight Rating. Make sure you have trailer safety chains and a brake control system. Knowing these details can help ensure a safe towing experience.
Technology Features
Minivans come with tech features that are great for families. Entertainment systems use DVDs, USB devices, Bluetooth®, and more. Safety systems include lane departure warnings and rearview cameras. Look for tech features like Apple CarPlay™ or Android Auto™ integration. Some models come with built-in Wi-Fi hotspots. Adaptive headlights shape themselves around curves. Headlights also turn in the direction of curves. Rain-sensing wipers automatically turn on. Doorglass motors are smaller and powerful. Interiors have leather seats and real hardwood accents. All of these features offer convenience and luxury.
Customization Options
When it comes to customizing your minivan, the possibilities are endless. You can upgrade the interior, exterior, or performance. Popular options include:
Roof racks: Crossed rails with hooks to carry items on top.
Tinted windows: Privacy and less heat from solar radiation.
Running boards: Support when entering/exiting and stylish decoration.
Bumpers: Improve looks and protection for off-road activities.
Decals or stickers: Personalize with designs or statements. Textured decals can increase traction.
Cost Considerations
Think it through – buying a minivan isn't just the sticker price. Taxes, insurance, petrol, regular upkeep and repairs must be factored in. Do some research, check out similar models and get multiple quotes from dealers. They may offer good deals or financing to help make it more affordable. Plus, budget for any extras you'd like:
Taxes
Insurance
Petrol
Regular upkeep and repairs
Dealer quotes
Financing
Extras
Frequently Asked Questions
Q1: Does my minivan require regular maintenance?
A1: Yes, your minivan should be brought in for regular maintenance to ensure it runs smoothly and safely for many years. Maintenance should include oil changes, tire rotations, brake inspections, and other services recommended by your owner's manual.
Q2: How often should I change the oil in my minivan?
A2: How often you change the oil in your minivan will depend on the type of oil your vehicle requires and what the manufacturer recommends. Generally speaking, you should change the oil every 5,000 to 7,500 miles, or at least once a year.
Q3: How much cargo can my minivan hold?
A3: The amount of cargo your minivan can hold will depend on the model and size of the vehicle. Some minivans have a cargo capacity of up to 140 cubic feet, while others may have a lower capacity. Check your owner's manual for the exact specifications.
Stay in Touch
Get the best travel tips, recipes, and articles on culture -- straight to inbox.