Ford Auto Repair Johnson City
Ford Repair and Maintenance
If you drive a Ford and live in the greater Johnson City area, then your vehicle will need preventative maintenance and repairs performed at some point. At American & Import Auto Repair, we specialize in the care, maintenance, and repair of Ford, Lincoln, and Mercury models. Our master mechanics at our ASE Blue Seal Certified facility provide the best in Ford maintenance and services that keep your vehicle on the road. Plus, we provide a two year twenty four thousand mile warranty for your car, truck or SUV, and get you back out on the road as soon as possible.
If you need our services, we suggest that you call and talk to our friendly, courteous staff that can set your appointment, or you can simply come by during our business hours and talk about what would be best for you and your vehicle. At American & Import Auto Repair, we offer the right services for your Ford vehicle.
Fleet Maintenance and Services
Whether it's an oil change, brakes, alignment, and tune up, maintenance or major engine work, we are more than capable of fixing it right the first time. Our reputation has been built on providing customers the best in terms of taking care of their vehicles so that they are back on the road quickly. However, we understand that our well-earned reputation is only as good as the services we provide.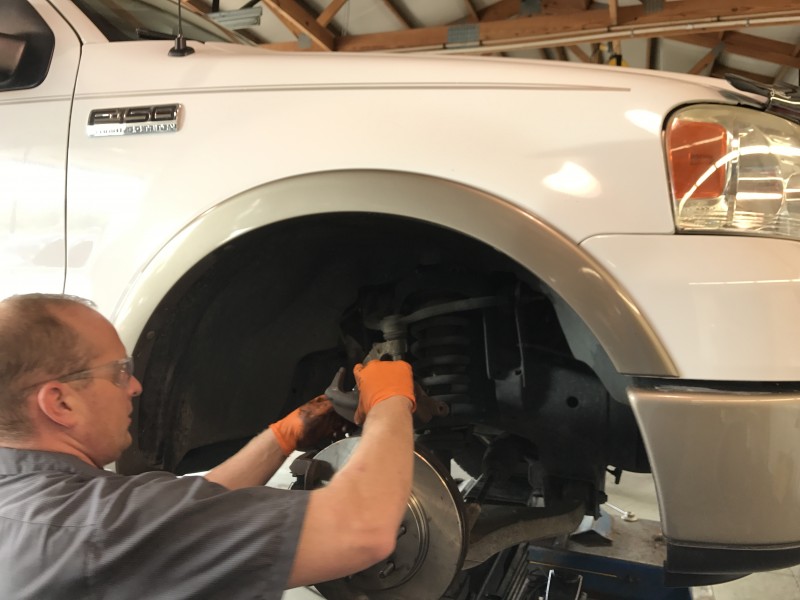 We recommend that you bring your vehicle in for preventative maintenance at regular intervals and whenever you see, hear, or feel a change in the operation of your car or truck that you don't understand, bring it in and we'll check it out. Diagnosing a problem early may save you hundreds of dollars or more in repair bills.
Our repair services cover your vehicle so that if there is something that needs to be fixed, our expert ASE master mechanics can do the job.
Johnson City Auto Repair Services include:
Ford Engine Repair
Ford Diesel Repairs
Ford A/C Repair & Recharge
Ford Brakes
Full Repairs on Ford, Lincoln, Mercury, and Other Ford Vehicles
Our repair services consist of diagnosing the problem, telling you what needs to be done, and then following your instructions in terms of what is repaired. That way, you stay informed about what we do so that there are no hidden or surprise charges. We believe in informing our customers up front about all repair issues and only charging for the repair services that are needed to keep you safe and reliable.
At American & Import Auto Repair, we offer several maintenance services designed to keep your Ford car or truck running smoothly. We provide proper regular factory maintenance so that small issues are corrected before they become big problems.
30,000, 60,000, 90,000 Mile Service
Oil Change & Tire Balancing
A/C Repair & Recharge
Brake Service
General & Preventative Maintenance Services
Tri-City Auto Repair Services?
There are good reasons why our maintenance and repair services at American & Import Auto Repair are the best in the greater Johnson City area. It all begins with our ASE certified mechanics that cannot be matched in terms of their education and expertise when it comes to maintaining or repairing your vehicle.
We have master mechanics who have earned their recognition and certification from The National Institute of Automotive Service Excellence. This means that they offer the best in terms of Ford maintenance, factory repairs, and the many other services that are performed to keep your vehicle on the road.
Our Ford mechanics are required to meet the standards of the ASE certification process that provides for the best training so they understand all aspects of maintenance and repair. This means that you get better service and have your car or truck returned to you in good working order.
We are an ASE Certified Blue Seal of Excellence Shop.
We offer free loaner cars so that you can get to where you are going without interrupting your plans. Please call ahead to schedule loaner cars because they are really popular. We can also give you a ride to home or work if you would like.
If your Ford, Lincoln, or Mercury vehicle needs proper maintenance or repair near me then please call or come by our facility. At American & Import Auto Repair. We offer the best in services that will keep your vehicle running smoothly or fix it properly so that you can get back behind the wheel as soon as possible.
American & Import Auto Repair offers complete maintenance for your Ford, Lincoln, or Mercury car, van, SUV, or truck. Our master mechanics can tackle anything from oil changes, routine factory maintenance, brakes, a/c repairs to auto electrical and flash/reprogramming service. Family owned and operated for nearly 18 years. Our experts have the knowledge and experience to keep your car safe and on the road. Call us with any questions at 423-913-3111or text 423-390-8549
Service area: Johnson City | Jonesborough | Gray | Telford | Chuckey | Elizabethton | Erwin | Fall Branch | Greenville | Kingsport | Limestone | Mosheim | Mountain Home | Piney Flats
Zip codes: 24210, 37618, 37620, 37641, 37643, 37644, 37650, 37656, 37657, 37615, 37743, 37658, 37660, 37681, 37818, 37684, 37686, 37687, 37690, 37692 37601, 37604, 37659