American & Import Auto Repair serves the greater Johnson City & Jonesborough TN area providing excellent maintenance and repair services to many different makes and models of vehicles. We are the Mercedes Benz specialists that you can trust, thanks to our master mechanics who have years of experience working on different Benz models over the years. We're a Bosch Car Service Center. We work quickly to get your Mercedes Benz back on the road. Let us show you why we are the premier Mercedes Benz shop in Johnson City.
Preventative Maintenance For Your Mercedes
Your Mercedes Benz will be serviced by ASE certified technicians. American Import and Auto Repair preventive maintenance service will keep your Mercedes in fantastic shape while helping avoid costly repairs. We offer the following services for your Mercedes:
Mercedes Benz Oil Change, Air Filter, and Cabin Air Filter
Transmission Fluid Flush, Brake Service, Spark Plug Replacement, and Tune Up
Mercedes Benz factory recommended services
Service A & Service B along with other repairs
Mercedes Benz Information
The internal combustion engine automobile was developed independently by Benz and Daimler & Maybach in 1886  link
"Hybrid" indicates a diesel or gas Hybrid. Link to our page
"Kompressor" vehicle has a supercharged engine.
"Turbo" has an engine that is turbocharged, only in A-, B-,E- and GLK-Class models.
"4MATIC" Is the all-wheel drive model
"BlueTEC" is a diesel engine that has selective catalytic reduction exhaust after treatment.
"BlueEFFICIENCY" has distinct fuel economy options (direct injection, start-stop system, aerodynamic modifications, etc.)
"CGI" (Charged Gasoline Injection) has Gas Direct Injection. Link to our page
"CDI" (Common-rail Direct Injection) this is a diesel with a common-rail engine.
"AMG Line" designates that the engine or interior, depending which car, has been fitted with the amenities of their AMG sports cars.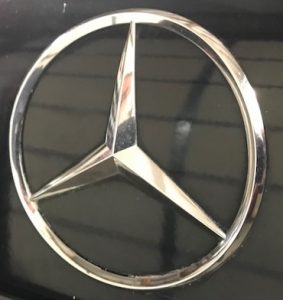 When something breaks in your vehicle, our Mercedes ASE certified master mechanics (who have years of experience with Mercedes Benz vehicles) are here for you! Small issues will become big problems if not addressed promptly. Should you notice any issue or difficulty with your Mercedes Benz, call for an appointment or bring it by our shop
Mercedes Benz Maintenance Services
American & Import Auto Repair is a ASE Blue Seal Shop through hard work & excellent customer service.
We pride ourselves on the high-quality work we provide while moving as fast as practical so that your vehicle can get back on the road quickly.
Our nationwide 2 year / 24,000-mile warranty  protects you anywhere, so if your vehicle should breakdown, you're covered! We go the extra mile to ensure that maintenance and repairs on your Mercedes Benz are performed correctly so that you can have peace of mind when on the road.
At American & Import Auto Repair, we put our customers first because we understand your needs. That's why we move promptly to get your Mercedes and we've have streamlined the process so that your waiting time is minimized. Also, we provide FREE loaner cars in case you need to be somewhere else, and keep you informed about the maintenance and repairs to your vehicle. Our loaner service is quite popular, so you'll want to call ahead and reserve a vehicle before bringing your Mercedes into our shop.
Our solid reputation has been built on providing years of excellent services, so please think of us when considering the best maintenance and repair services for your vehicle. We are the Federated Nationwide Shop of the Year! A vote of confidence from the automotive community!
So if you live in the Johnson City or Jonesborough TN area and own a Mercedes Benz, please come by and find out why American & Import Auto Repair is the best maintenance and repair facility for your needs.
For Mercedes Benz repair near me come by and see us at 3832 West Market Street, Johnson City, TN 37604 give us a call at 423-913-3111 or text us at 423-390-8549. We are here to serve you!!
Mercedes-Benz SLS AMG, CLA-Class, SL-Class, B-Class Electric Drive, R, M, G-Class, GLC-Class, GLE-Class, Smart Car & Sprinter
Service area: Johnson City | Jonesborough | Gray | Telford | Chuckey | Elizabethton | Erwin | Fall Branch | Greenville | Kingsport | Limestone | Mosheim | Mountain Home | Piney Flats