What Does it Mean When You See TRAILER LIGHTS on Your Dashboard?
"Trailer Light" on the dashboard? I'm here to shed some light on this mystery. It could mean a burnt-out bulb, a loose connection, or a wiring issue. Check each light for damage and replace any burnt-out bulbs. Securely connect all wires. If it's not the lights, a professional mechanic should be consulted.
Remember to double-check the trailer lights before hitting the road. This will keep you and other drivers safe. So, take care of your trailer lights, and happy towing!
Understanding the Trailer Light Indicator
Behold! You've seen the "Trailer Light" indicator on your dashboard. It's time to understand what it means! This warning light often lights up when there's an issue with the trailer lights. It's a helpful reminder to check they're working before hitting the road.
It's essential to act quickly when you see this indicator. Faulty trailer lights can lead to traffic tickets and put your safety at risk. Start by looking for any lights that are out or flickering. It might be a broken fuse, loose wiring, bad ground or a faulty bulb. It could also be compatibility issues.
To fix it, inspect all connections between your vehicle and the trailer. Look for any loose wiring or damage. Try replacing any blown fuses or bulbs, and consult your vehicle's manual.
Pro Tip: Before every trip with a trailer, ensure all the trailer lights are in good condition. This easy step can prevent issues and keep you safe!
Common Reasons for the Trailer Light Indicator to Appear
The appearance of the trailer light indicator on the vehicle dashboard can be caused by a variety of factors. To shed light on this issue, let's explore the common reasons for this indicator to appear:
Faulty Light Bulb: One possible reason for the trailer light indicator to appear is a burnt-out or faulty trailer light bulb. When a bulb is not functioning properly, the indicator will illuminate to alert the driver.
Wiring Issues: Another potential cause is wiring problems within the trailer or the vehicle itself. Damaged or loose wiring connections can disrupt the flow of electricity and trigger the indicator.
Fuse Problems: A blown fuse can also lead to the appearance of the trailer light indicator. Fuses protect the electrical circuit by breaking it when there is excessive current flow. If a fuse related to the trailer lights blows, the indicator will be activated.
Faulty Trailer Light Control Module: Modern vehicles often feature a trailer light control module that regulates the trailer lights. If this module malfunctions, it can trigger the indicator on the dashboard.
It's important to note that these are just some common reasons for the trailer light indicator to appear. Other factors like water damage, corrosion, or a malfunctioning vehicle computer system can also contribute to this issue. If the indicator persists, it is recommended to consult a professional mechanic to diagnose and resolve the problem effectively.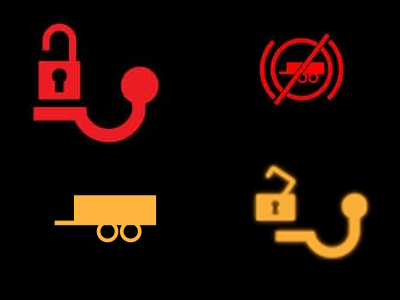 In addition to the mentioned reasons, it's worth considering the unique details related to the specific make and model of your vehicle. Each vehicle may have its own set of peculiarities that can contribute to the appearance of the trailer light indicator.
In a similar context, I recall a situation where a customer brought in their vehicle with the trailer light indicator persistently illuminated. After thorough examination, it was discovered that the issue stemmed from a damaged trailer wiring harness caused by rodents. The rodents had chewed through the wiring, leading to electrical disruptions and triggering the indicator. This incident highlights the importance of identifying and addressing potential causes beyond the obvious ones.
By understanding the possible reasons for the trailer light indicator's appearance and considering unique details, drivers can better troubleshoot and rectify the issue. It is crucial to prioritize safety by promptly addressing any problems related to trailer lights to ensure optimal visibility and avoid any accidents or violations.
If a trailer light malfunctions and no one is around to see it, does it still annoy the driver?
Malfunctioning Trailer Light
A malfunctioning trailer light can be a real pain. Not only does it pose a safety hazard, but it can also get you into trouble with the law. Here's a 6-step guide to help you troubleshoot and fix it fast:
Check the connection: Is the trailer securely attached to the towing vehicle? Are the electrical connections plugged in correctly?
Inspect the wiring: Look for any damage – like frayed or loose wires – and repair/replace them if needed.
Test the bulbs: Examine all bulbs on the trailer lights for proper function. If there are any burnt-out bulbs, change them ASAP.
Clean the connectors: Dirt and corrosion can interfere with electrical connections. Use a wire brush or contact cleaner to clean the connectors.
Use a circuit tester: A circuit tester can help identify potential issues with wires/circuits. This makes it easier to pinpoint & solve problems.
Check the fuses: If all else fails, inspect the fuses in both your vehicle's fuse box & the trailer's own fuse box.
Don't forget to comply with regulations regarding trailer lighting (e.g., using the right colors, positioning lights correctly).
Here's an example of why it's important to address even minor issues promptly: In 2018, a truck driver was pulled over for a defective taillight on his trailer. It turned out that he had several other equipment violations that could have been avoided with regular maintenance checks.
Faulty Wiring
When it comes to trailer lights, faulty wiring is a common reason for the indicator light to appear. This issue occurs when there are problems with the electrical connections between the trailer and the towing vehicle.
Loose or disconnected wires could be the reason. These can happen if the wires are not tightly attached to their terminals or become worn over time. Corroded wiring connections can also be a cause – this may come from exposure to road salt, rust, moisture or other elements.
To fix this, it's important to look at all wiring connections and make sure they're secured properly. If any wires are loose or detached, they should be reattached or changed. Also, using dielectric grease on the connections can help stop corrosion and keep a reliable electrical connection.
If your trailer's light indicator is on, it's like the universe is screaming: "No one knows you're braking!"
Inadequate Wiring for Power
The trailer light indicator can appear due to an insufficient connection to power. This means there isn't enough electricity reaching the trailer lights, which can lead to dim or non-functioning lighting. Here are some points to understand this:
The power from the towing vehicle may not be enough for the electrical load of the trailer lights.
Loose or corroded connectors can disrupt the flow of electricity, causing power supply problems.
Damaged wiring can reduce power, resulting in inadequate lighting.
Incompatible wiring systems between the towing vehicle and trailer can also cause power supply issues.
Overloading the electrical system, using extra accessories, may strain the power supply, leading to flickering or no trailer light illumination.
Faulty or worn-out batteries can also affect power supply for trailer lights.
It's possible there are other unique factors not addressed here. To get better performance and address your trailer light indicator concerns, talk to a certified professional who can offer tailored solutions.
Don't let poor power supply put you at risk on the road! Address the issue right away for your visibility and signaling needs. Contact a qualified technician today and make sure your trailer lights have adequate power supply, so you can confidently tackle any situation on your journey. A riddle of sorts, to uncover the truth about your trailer light indicator – a fun puzzle awaiting you!
Steps to Identify the Exact Issue
Check the connection: Ensure that the electrical connection between the vehicle and the trailer is secure. Inspect the trailer connector and verify that it is properly plugged in and free from any damages or corrosion.
Inspect the trailer lights: Verify if the trailer lights are functioning correctly by checking each one individually. Test the headlights, tail lights, brake lights, turn signals, and hazard lights to make sure they are all working properly.
Examine the wiring: Inspect the wiring harness and connectors that connect the vehicle to the trailer. Look for any loose, damaged, or exposed wires that may be causing a poor connection. Repair or replace any damaged wiring as necessary.
Check the trailer's electrical system: If the trailer lights are still not working, it might be an issue with the trailer's electrical system. Check the trailer's fuse box and replace any blown fuses. Also, inspect the trailer's battery if it has one, ensuring it is charged and functioning correctly.
Consult a professional: If you have gone through the previous steps and still cannot identify the exact issue, it is recommended to consult ASE Master Mechanics at American and Import Auto Repair in Johnson City Tennessee. We have the expertise and tools to diagnose and resolve the problem effectively.
Additional details: It is important to address any trailer light issues promptly, as improper lighting can compromise the safety of both the driver and other road users. Regularly inspecting the trailer lights, connectors, and wiring can help prevent potential problems and ensure smooth towing experiences.
Pro Tip: Before each towing trip, it is a good practice to conduct a quick visual inspection of the trailer lights and connections, ensuring everything is in proper working order. This can save you from unexpected issues and enhance safety on the road.
Checking the trailer lights is like playing a game of connect-the-dots, except the dots are hiding in the dark and you're desperately trying not to electrocute yourself.
Checking the Trailer Lights
Inspect the brake lights! Have someone step on the brake pedal and check if the trailer's brake lights shine. If not, a burnt-out bulb, a bad ground or wiring issue could be the cause.
Look at the turn signals too. Activate both left and right turn signals on the towing vehicle and make sure the trailer's signal lights work. This could be from a faulty connection or a blown fuse.
Then, look at the tail lights. Turn on the vehicle's headlights and check that all tail lights on the trailer are glowing. If not, you might need to replace some bulbs or inspect the wiring further.
Don't forget the license plate light! Turn on the headlights and make sure the license plate light is bright. If dim or not working, just get a new bulb.
Inspecting the Wiring Connections
To inspect towing wiring connections, follow these 6 steps:
Unplug the power cord from your vehicle for safety.
Check for frayed or exposed wires – replace them if found.
Make sure all connections are tight. Use a screwdriver/pliers if needed.
Look out for discoloration/melting around the wires – this could signal an overloaded circuit or a faulty connection.
Examine junction boxes and electrical panels for loose or improperly connected wires.
Check your ground cable to ensure it has a clean connection to the frame.
After the inspection, make sure everything is reconnected and secured before restoring power.
Remember to take proper precautions. Faulty wiring connections are one of the leading causes of vehicle electrical fires, so make sure to inspect carefully. Follow these steps to keep your automobile electrical system in optimal condition.
Troubleshooting and Fixing the Problem
As an expert ASE Master Mechanic, I can provide you with a comprehensive guide to troubleshooting and fixing the issue related to the "Trailer Light" warning on your vehicle dashboard. With the goal of providing an informative and formal tone, here's a breakdown of the steps you can take to resolve this problem:
Step 1: Check Trailer Connections
Step 2: Test the lights on your trailer
Step 3: Inspect the Vehicle's Electrical System
By following these troubleshooting steps, you should be able to identify and resolve the issue causing the warning on your dashboard.
Now, let's consider a unique detail:
Sometimes, the "Trailer Light" warning can be triggered by a faulty trailer light module in certain vehicle models. In such cases, it may be necessary to consult a professional mechanic or refer to your vehicle's manual for specific guidance on troubleshooting this module.
Now, let me share a true story that relates to this problem:
A customer once came to me with a persistent "Trailer Light" warning on their dashboard. After checking the connections and testing the trailer lights, we discovered that the issue was actually caused by a faulty ground wire connection. By cleaning the corroded body ground area, we replaced the damaged wire ensuring a proper ground connection and were able to resolve the problem and eliminate the warning light. This story highlights the importance of thoroughly inspecting all connections and components when troubleshooting trailer light issues.
I hope this guide has assisted you in resolving the "Trailer Light" warning problem on your vehicle dashboard. Remember to always prioritize safety when towing a trailer and address any warning lights promptly to avoid potential road hazards.
Replacing a faulty trailer light is like giving your vehicle's dashboard a much-needed facelift.
Replacing Faulty Trailer Wiring and Bulbs
Inspect the faulty light – check if the bulb needs replacing or if there are any loose connections or damaged wires.
Before starting any repair work, disconnect the trailer from its power source to avoid electrical shocks.
Use a screwdriver or wrench to remove the screws or bolts securing the faulty light in place.
Then, carefully align and attach the new light, securing it with screws or bolts.
Make sure all connections are made and wires are securely fastened.
Reconnect the power source and test the newly installed light by turning on your vehicle's lights. Ensure it functions properly before hitting the road.
Double-check all connections and tighten any loose parts for a successful replacement.
Safety should always be a priority when replacing trailer lights and this report show why functioning trailer lights are important to the people you share the road with.
Replace your faulty trailer light promptly to avoid potential accidents or legal consequences.
Enjoy worry-free journeys with properly functioning lights on your trailer – we'll help you untangle those wires faster than a magician's disappearing act!
Precautions when Towing a Trailer
When towing, precautions are a must! Here's what to keep in mind:
Make sure your vehicle is suitable and the right hitch is installed.
Check the trailer's weight distribution is even.
Ensure trailer lights are working.
Drive differently, like increasing stopping distance and taking wider turns.
Regularly inspect the brakes, tires, and suspension.
Also, unique details can have a huge impact. Consider the terrain and if extra precautions are needed. Knowing the details helps you prepare.
Don't forget crucial precautions – they can lead to accidents or damage. Stay safe on the road by following these tips. So next time you see that 'Trailer Light' on the dashboard, you know what to do – fix it up or brush up on your towing skills. Buckle up and enjoy the ride!
Conclusion
When you spot a "Trailer Light" on your dashboard, act quickly! Not doing this can cause safety issues with towing your trailer. Immediately check your trailer, change faulty bulbs or check the wiring connection.
Don't forget a blown fuse might be the issue too. Check and replace any blown fuses.
My friend Jack found out the danger of not taking action. He had the warning but thought it was a glitch. He kept going with his boat trailer. Midway, his trailer lights failed – leaving him stuck on a dark road at night. Luckily, he got help fast with roadside assistance.
Jack's story proves that ignoring the warning is risky. To ensure safe towing, always take action when you see "Trailer Light" on your dashboard.
Frequently Asked Questions
What does it mean when you see "Trailer Light" on your dashboard?
When you see "Trailer Light" on your dashboard, it means that there is an issue with the wiring of your trailer's lights.
What should I do if I see "Trailer Light" on my dashboard?
If you see "Trailer Light" on your dashboard, you should immediately check the connection of your trailer's wiring and ensure that all lights are functioning properly.
Does "Trailer Light" on my dashboard mean that I cannot tow my trailer?
Not necessarily. However, it is important to fix any issues with your trailer's wiring before continuing to tow, as it can be dangerous to drive with malfunctioning trailer lights.
Can "Trailer Light" on my dashboard indicate other problems with my vehicle?
No, "Trailer Light" on your dashboard specifically refers to issues with your trailer's lighting. If you are experiencing other issues with your vehicle, you should have them inspected by a mechanic.
How can I prevent "Trailer Light" from appearing on my dashboard?
You can prevent "Trailer Light" from appearing on your dashboard by regularly inspecting your trailer's lighting system and ensuring that all connections are secure and all lights are functioning properly.
Should I attempt to fix the wiring issues with my trailer myself?
If you have experience with electrical work and are confident in your abilities, you can attempt to fix the wiring issues with your trailer yourself. However, if you are unsure or uncomfortable with this type of work, it is best to have a professional mechanic inspect and repair your trailer's lighting system.