Subaru Repairs and Maintenance
For those who drive a Subaru vehicle in the greater Johnson City and Jonesborough, TN area, you can get the best in Subaru maintenance at American & Import Auto Repair. We have been the Subaru specialist that people trust, offering the right services to keep your vehicle running smoothly.
Thanks to our Subaru expertise and team of ASE master mechanics who have years of experience working on all makes and models of vehicles. Whether you need the Subaru brakes checked, the timing belts changed or more elaborate Subaru repairs performed, we are the auto shop for your needs!
American & Import Auto Repair is your one-stop-auto shop for the best in preventative maintenance for your Subaru vehicle. Our master mechanics will change the oil, check the air filter, brakes, offer a transmission fluid flush, provide spark plug replacement and tune up services if needed, and perform any factory maintenance that the vehicle requires.
Preventative maintenance is important because many big repairs may be prevented by having inspections, changing out the fluids, and replacement of small parts at regular intervals. In other words, a little work can really add up in savings when it prevents bigger issues. So when you first notice signs of something wrong with your Subaru call us or bring it to our shop. Even if it turns out to be something small, taking care of the little issues is important. We diagnose and fix Subaru Head Gaskets and are very familiar with the various issues that Subaru's have. They are great vehicles but have certain pattern failures that we address daily.
We understand that not all repairs are avoidable, even if you have been bringing your vehicle in for regular maintenance. Just as we get an unexpected flu or creaks and pains as we age, so do our vehicles! We offer excellent repair services thanks to our ASE master mechanics that are fully certified and have been working on Subaru vehicles for many years. This means that we can diagnose the issue, tell you about the services, parts, and labor costs that will be needed for its repair and upon your approval work diligently so that the job is done right in a short amount of time.

We respect your time, so we won't leave you stuck! We have a comfy waiting room, Wi-Fi, Keurig coffee maker, phone/laptop chargers, snacks – you may not want to leave! But if you need to be somewhere, keep in mind we are the Home of the FREE Loaner car! Call ahead to arrange a free loaner car so your schedule can proceed without hiccup! They get reserved quickly, so if one is not available, we can give you a lift to work or your next appointment.

American & Import Auto Repair is the Subaru specialist that provides the best in auto repair services in the greater Johnson City, TN area. Our years of experience in automotive repair services run the gamut from replacing timing belts, performing oil changes, addressing Subaru AWD problems, and up to Subaru head gasket repair. We work on Subaru issues like AVCS, STI boxer.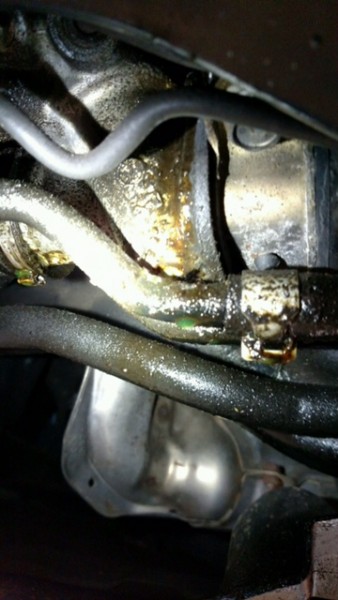 The green liquid is coolant leaking from the Head Gasket
As of 2012 Subaru was the twenty second largest automaker in the world. Subaru uses a specific horizontal (flat) type motor caller a boxer in most of its cars. Most vehicles that Subaru makes come AWD (all- wheel drive) called Symmetrical All Wheel Drive. Subaru is now known for the boxer engine and all-wheel drive engine transmission combination. One exception is the BRZ which is rear wheel drive and came out in 2012. Subaru's high performance cars are turbo charged and the WRX is the most popular. The Outback and Forester's also come with turbocharged versions. Subaru's are also known for being able to drive and rough terrain and bad road conditions.
Subaru is the Japanese name for the star cluster "The Seven Sisters" or Pleiades. This is where they get their name, and they use it in their car emblems, except for the 7th star, which is not visible to us.
Your Peace Of Mind Warranty
In addition to delivering the best in services, we back it up with a 2 year/24,000-mile warranty that is good nationwide. This means that if your vehicle breaks down due to the work that we performed or if we did not fully address the issue that needed maintenance or repair, you can take your vehicle into one of thousands of auto shops around the country and have it addressed.
Choose Our Subaru Maintenance & Repair Center
There are good reasons why you should trust American & Import Auto Repair as the place for the maintenance and repair of your Subaru vehicle. Our friendly, courteous staff is here to help, either taking your call or greet you with a smile as you enter the door, consulting with our ASE certified Service Advisors and consulting with our expert mechanics if needed. At American & Import Auto Repair we put you first by offering the best in repair and maintenance services combined with treating you right. This is why we offer free loaner cars in case you need to be somewhere else, inform you of the work that is needed upfront so that there are no hidden fees or charges, and answer all your questions so that you understand how our services work for you.
If you drive a Subaru vehicle and live in the Johnson City or Jonesborough, TN area, please call or come by and discover why American & Import Auto Repair is the best maintenance and repair facility in the region. Come by and see us at 3832 West Market Street, Johnson City, TN 37604, give us a call at 423-913-3111 or text us at 423-390-8549. Let us help you today!
Brat, Justy, SVX, Baja, Tribeca, Impreza, Legacy, WRX, WRX STI, Outback, Forester, BRZ, Crosstrek
Subaru Repair Near Me Service area: Johnson City | Jonesborough | Gray | Telford | Chuckey | Elizabethton | Erwin | Fall Branch | Greenville | Kingsport | Limestone | Mosheim | Mountain Home | Piney Flats
Zip codes 24210, 37618, 37620, 37641, 37643, 37644, 37650, 37656, 37657, 37615, 37743, 37658, 37660, 37681, 37818, 37684, 37686, 37687, 37690, 37692 37601, 37604, 37659