What Do Automotive Service Writers Do at American and Import Auto Repair?
What is an Auto Repair Service Writer?
To understand what an Automotive Service Writer is and how they help with your car problems, let's dive into the role, qualifications, and key skills required for this job.
The role of an Automotive Service Writer involves interacting with customers and providing them with estimates for vehicle repairs. Qualifications of an Automotive Service Writer vary, but certain technical and communication skills are essential. And finally, the key skills of an Automotive Service Writer revolve around multitasking, problem-solving, and providing exceptional customer service.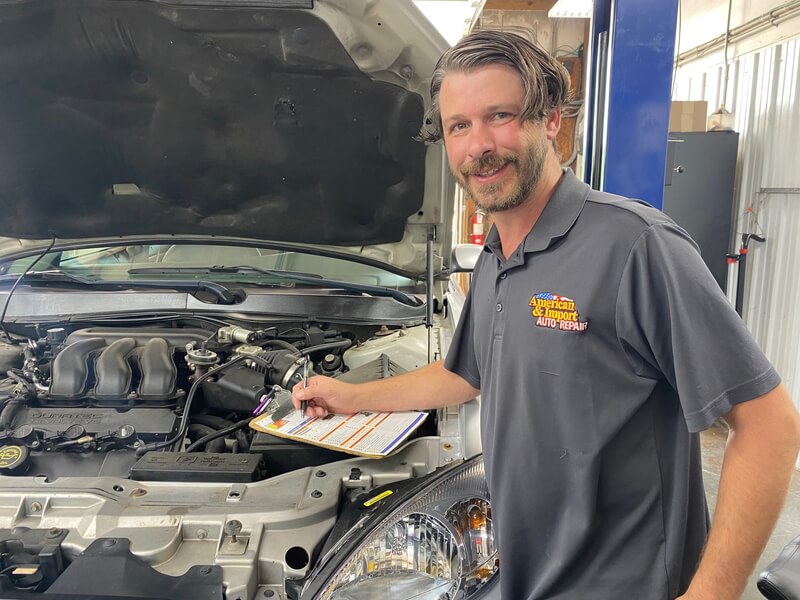 The Role of an Automotive Service Writer
Automotive Service Writers have an essential job in the car industry. They talk to customers and lead them through fixing their vehicle. They also make service orders, note down services done, and explain costs and processes. Plus, they make sure clients are satisfied with top-notch customer service and create lasting relationships. A great part of the job is figuring out what's wrong with a car and explaining potential solutions to technicians.
Aside from communicating, Automotive Service Writers act as go-betweens for the customer and the service department. They organize appointments, check repairs, give updates on repair progress, and make sure cars are ready on time. They might even order parts and manage inventory.
Helpful Hint: An Automotive Service Writer can do much better if they know a lot about cars and can communicate well.
Qualifications of an Automotive Service Writer
An Automotive Service Writer is expected to have great knowledge of automotive systems, communication skills, and customer service capabilities. They must also be proficient in troubleshooting, repair, and maintenance of vehicles. To stay up-to-date with the latest technology, they must have a deep understanding of the auto industry.
The Service Writer is in charge of dealing with customer inquiries. They must explain repair needs in simple terms. Clients depend on them to give accurate estimates and guarantee timely service.
Successful auto repair service writers make an effort to get more knowledge about new vehicles. This can be done by attending seminars or training courses provided in the automotive industry.
Indeed found that the average salary for an Automotive Service Writer in the US is $48,939 per year. Impressive skills are needed to make a mechanic look good – like a magician!
Key Skills of an Automotive Service Writer
Automotive Service Writing is an important job in the automotive industry. It requires versatility. This job means interacting with customers and mechanics, managing inventories, handling finances, and maintaining records.
The skills needed to be successful in this role include:
Good communication
Organizational abilities
Technical expertise
Problem-solving skills
Attention to detail
Other competencies are needed too. Automotive service writers should be able to use computer programs like MS Word and spreadsheet software like Excel. Also, courses and training programs from car manufacturers can help them stay up-to-date on new technologies.
The history of Automotive service writing began in the early 1900s. Back then, mechanics did most of the maintenance. As cars changed after WWII, companies saw the need for people to manage customer needs. Over time, service writing became part of any modern repair center.
Service Writers need to understand car sounds in order to write service orders.
What Do Automotive Service Writers Do?
To understand the day-to-day responsibilities of an automotive service writer and how they can help solve your car problems, let's look at the different aspects of their job. These include providing excellent customer service, writing repair estimates, communicating with mechanics and technicians, ordering parts and scheduling repairs, managing customer complaints, and ensuring quality control.
Customer Service
Automotive Service Writers must have a deep understanding of vehicle repair, maintenance and estimated costs. They are the go-between for customers and mechanics.
In addition, they create service schedules, communicate with customers, process paperwork and manage inventory. Building strong customer relationships is their key to gaining loyalty and referrals.
Technical knowledge is also a must. Service writers must know how vehicles work and keep up with tech advances and industry trends. This allows them to accurately answer customer questions.
According to IBISWorld, disposable incomes and an aging fleet of vehicles will cause the demand for automotive repair services to increase over the next five years. Service writers must continue to provide exceptional customer service to ensure success in the industry.
Writing Estimates
Automotive service writers note and generate estimates for car repairs or maintenance services. They inspect exteriors and interiors to provide accurate cost estimates. Specialized computer programs help them calculate labor and parts costs. They collaborate with repair personnel to make sure estimates are realistic.
Writers also record changes during repairs, comply with regulations, consult with mechanics, and update customers. They schedule appointments and track associated transactions. This way they can keep track of revenue and offer customers better care.
Statistics from the BLS show that in May 2019, over 30% of automotive service writers were employed by car dealerships. Service writers are like a bridge between the customer and the mechanic.
Communication with Mechanics and Technicians
Automotive Service Writers need great communication skills to make sure necessary repairs are done. They must understand technical language used in automotive repairs and services. They must communicate the customer's concerns, vehicle issues, and any service history to the technician.
The Service Writer needs to ask questions during the vehicle inspection. This helps to diagnose and understand the issue. Accurate information helps the technician do efficient and successful repairs.
Written documents are also important. This includes repair orders, invoices, estimates, maintenance/repair suggestions, and parts replacement recommendations.
Service Writers must keep up-to-date with new technologies in the industry. This helps provide excellent customer service.
Want reliable repairs and maintenance? Get professional Automotive Service Writers who know a lot about cars!
Ordering Parts and Scheduling Repairs
When it comes to vehicle repairs, automotive service writers are in charge of making sure all necessary parts are ordered and repairs are scheduled quickly. Here are the 6 steps they take to do this:
Identifying repairs from customers or vehicle inspection
Figuring out what parts are needed
Getting pricing info for parts
Ordering parts from suppliers
Scheduling repairs with mechanics once the parts arrive
Notifying customers when their car is ready
They also need to keep records of each repair job. This includes what was repaired, which parts were used, and how long it took.
Customers depend on automotive service writers for accurate repair costs and time-frames. Being upfront about any delays or issues is important too.
Trust your automotive service writer to make sure your vehicle is running smoothly – from ordering parts to scheduling repairs.
Managing Customer Complaints
Addressing Customer Concerns in Automotive Services
Car service reps must handle customer complaints in a pro and efficient way. They should:
– Listen carefully – Acknowledge concerns with empathy – Remain calm – Maintain a helpful attitude – Make sure the complaint is understood – Inform customers of next steps – Work towards finding a solution
Get more accurate details:
– When, where, and how the problem occurred – Take photos to capture visual info – Follow up actions and timeframe
In some cases, complaints may be too complex to handle. Escalation protocols involve different levels of communication between dept. managers. Reps should make sure all avenues for solutions have been attempted before escalation.
Customer service employees must use de-escalation techniques while communicating. This steadies customer experience and boosts customer-centricity for automotive services businesses. Quality control is key!
Ensuring Quality Control
Veteran technicians are an essential part of the automotive service industry. They know that even minor discrepancies can cause serious issues down the line. So, they use a variety of methods to guarantee quality control.
They check procedures, spare parts brands, and mechanic qualifications. Plus, they carry out rigorous tests and inspections before releasing vehicles.
Plus, these technicians update their training regularly. This keeps repairs in line with manufacturer standards and gives customers peace of mind.
Moreover, they advise customers to bring in cars for regular maintenance. Delaying repairs can cause complications and cost more in the end.
Experienced technicians prioritize customer satisfaction. By providing quality service, drivers can enjoy a hassle-free experience and have a higher resale value at an affordable price.
Automotive Service Writer vs Service Manager
To understand the key differences between an automotive service writer and a service manager, let's explore how they work together. An automotive service writer is responsible for communicating with customers about their car problems and providing accurate estimates for the necessary repairs. A service manager, on the other hand, oversees the entire repair process and ensures that everything runs smoothly. Knowing the difference between these roles and how they collaborate is crucial for a successful automotive service experience.
Key Differences between an Automotive Service Writer and a Service Manager
John, after completing duties as an Automotive Service Writer, decided to pursue a master's in Supply Chain Management. His goal? To become a Service Manager.
Service Writers and Managers have different roles in the auto industry. Responsibilities, authority levels and tasks vary. Below is a comparison table:
| Automotive Service Writer | Service Manager |
| --- | --- |
| Interacts with customers to understand their vehicle issues | Supervises and manages the team of mechanics |
| Provides a cost estimate and recommends repair options | Creates and manages repair schedule for vehicles |
| Sells additional services or products to customers | Monitors the progress of repair work and ensures timely completion |
| Manages paperwork related to repairs, orders parts if needed | Ensures quality control standards are met by team |
Difference Between Automotive Service Writer and Service Manager
Plus, Service Writers tend to interact more with customers than Service Managers. The latter mostly deals with managing their workforce efficiently.
Service Writers and Managers form a perfect pair like peanut butter and jelly. Together, they complete each other.
How Service Writers and Managers Work Together
Collab between Automotive Service Writers and Managers is a must for a smooth-running industry. A successful partnership can mean high productivity, customer satisfaction, increased profits, and early issue detection before it's too late.
Service Writers are key, connecting customers and management. Their duties? Greeting customers, booking appointments, listening to them, documenting info, providing estimates, and keeping up with warranty/insurance coverage. On the other hand, Service Managers oversee the entire repair/maintenance process from start to finish. They make sure services are delivered on time, assigning tasks to technicians and monitoring progress.
Good communication between these two is crucial for understanding each other's roles. This helps with efficient workflow management and work distribution which leads to better productivity.
Plus, Service Writers can pass on customer feedback. This helps Managers improve service quality.
Take, for instance, a Service Writer reporting a customer complaint about failing brakes even after multiple visits. The Manager investigated it, which revealed underlying mechanical issues that needed urgent attention. This could have meant huge losses if not caught earlier.
The Importance of Automotive Service Writers
To understand the importance of automotive service writers in providing top-notch vehicle services, let's delve into how they ensure customer satisfaction and loyalty, the role they play in maximizing profitability, and their impact on reputation and brand image. These sub-sections will further showcase the vital role that service writers play in the automotive industry, from addressing car problems to providing estimates to customers.
How Service Writers Ensure Customer Satisfaction and Loyalty
Service writers are vital for customer satisfaction and loyalty in the automotive industry. They communicate with customers, understand their needs, and accurately convey them to technicians. This ensures customers receive high-quality service and their expectations are met. Furthermore, service writers create a positive experience with accurate estimates, timely updates, and excellent customer service.
Service writers also build strong relationships and address any customer concerns. They act as the liaison between customers and technicians, ensuring effective communication throughout servicing processes. Additionally, they can empathize with customers, such as one who recently lost his job. Through listening actively and taking note of constraints, the service writer can provide effective services with empathy and transparency.
Thus, service writers maximize profits for their clients like Robin Hoods.
The Role of Service Writers in Maximizing Profitability
Automotive service writers are essential for the success of any auto repair shop. They identify customer needs and communicate them to technicians. This process ensures repairs and services are done quickly, leading to more profit.
Good communication between service writers, techs and customers is important. Assessing and recording customer concerns helps the technician spot problems early. This saves time and increases profits.
They also help get parts from suppliers when needed. Knowing inventory and pricing helps keep costs down, boosting profits.
A recent industry study found that departments with well-trained service writers had the highest earnings. This is because they up-sell additional services.
The importance of service writers is undeniable when it comes to maximizing auto repair profits. Communication, inventory management, and cost control are all vital for success. Get the best service writer to ensure your car's reputation is as good as yours.
Impact of Service Writers on Reputation and Brand Image
The role of automotive service writers is essential when it comes to preserving a company's reputation and brand image. They make sure there's great communication between customers and technicians. Plus, they handle the workflow effectively.
Service writers are key for making sure customers' concerns get appropriate attention. Plus, they ensure the services rendered meet customers' expectations. Service quality, timeliness, interpersonal skills, and operational efficiency all depend on the capability of service writers.
Apart from their communication duties, service writers recommend potential repairs and maintenance services. They also provide feedback to management about customer satisfaction. This info is critical for future business operations.
According to Automotive News, up to 70% of dissatisfied customers associate bad service with brands rather than individual dealerships or repair shops. So, companies need strong service writing talent for positive long-term reputations.
In 2020, ConsumerReports.org conducted a survey. People reported switching repair shops mainly due to bad customer experiences. This proves how crucial automotive service writers are for any successful business.
Common Car Problems and the Role of Automotive Service Writers
To explore common car problems and how vehicle service writers can help you, dive into the following sub-sections. You will learn how they identify and diagnose car problems and offer effective solutions and recommendations, making the entire car repair process much more manageable for you.
Identifying and Diagnosing Car Problems
To identify and repair car issues, it's important for car owners and automotive service writers to understand the process. The following steps can help:
| | |
| --- | --- |
| 1. | Listen for any weird sounds when driving or using the car. This can give clues about what may be wrong. |
| 2. | Take pictures of all angles of the vehicle. Check the exterior of the car for signs of damage or leaking tires, fluids and other parts. |
| 3. | Perform tests such as test driving or running diagnostics on warning lights to further find potential problems. |
| 4. | Keep a log of observations and share with a qualified mechanic. |
Noting Vehicle Problems
Additionally, accurately describing observed issues and their severity is key for effective communication between car owners and mechanics. Knowing common car problems can help detect them before they become serious, saving time and money. Get help from a professional automotive service writer to prevent safety issues or higher repair costs.
Be proactive in identifying issues for optimal car performance and prevent accidents with timely intervention. Take our advice and avoid duct tape and chewing gum!
Offering Effective Solutions and Recommendations
Automotive technology keeps advancing and so do the solutions for car problems. Service writers, knowledgeable in transmissions, engines and electrical systems, help ensure issues get fixed fast. They act as a bridge between mechanics and car owners, giving transparent info about repairs and cost estimates.
Service writers assess diagnostic codes using system analysis tools. They tell clients how to avoid future issues with vehicle maintenance. They stay up-to-date with industry trends, recommending OEM parts for better car performance.
They collaborate with mechanics during inspection to make sure they give the right diagnosis. Then they cross-check the client's issue against cars of the same model, making an informed decision without guessing. This confidence helps the client have a smooth ride.
For example, when a hybrid was taking a test drive, the dashboard lit up when braking. The mechanic found nothing wrong. After talking to the client and researching, they found that a simple ABS sensor replacement solved the light issue.
Without service writers, getting your car fixed would be like a horror movie. It'd be scary, confusing and you'd end up screaming!
Conclusion: The Vital Role of Automotive Service Writers
The role of an automotive service writer is essential for a vehicle repair and maintenance service to operate smoothly. They serve as the link between customers and technicians, providing cost estimates, advice, and updates on auto issues. A competent vehicle service writer ensures clients are pleased by dealing with complaints and solving problems quickly.
Furthermore, a successful service manager supervises the technician team to guarantee top-notch work meeting safety and regulatory standards. Their post requires they have great communication skills, technical know-how, and they are committed to delivering services promptly.
On top of that, being proactive in selling more services or merchandise can bring in additional revenue. Service writers must also keep accurate records of all dealings alongside documentation concerning warranty claims and inspections.
Moreover, to improve customer experience further, automotive service writers can offer online appointment booking systems or include convenient payment options such as contactless payments or digital invoices. This boosts efficiency and keeps up with modern trends in client engagement.